Did I get this flow chart correct ?? Can I use one Watt/SWR Meter for everything with full duplex ??
Ko6kL Ham Satellite Antenna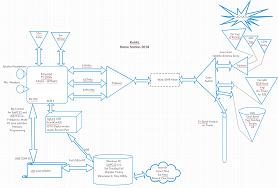 flow chart.....

Paul K6HR has a flex radio for Sats's and a LEO m2 cp antenna.
Check out this great info Amateur Satellite Primer
If we work SSTV here is the SSTV webcam's to check your signal or extend your receive world wide.

.
Ham recordings / Media files:
Valleymedia Listen to a ham radio satellite contact...

*NEW* better 2m receive after installing the SSB brand 2m rf preamp.
I lucked out on a mid pacific pass on AO91 (FM) Ko6kL Modesto Ca working KL2DN BP51 5 watts from Alaska
lots of DTFM qrm but pulled 3 qso's out of a AO91 FM pass on a sunday wd9ewk,n7new,n9eat and many more even mexico

QSO recording of Sat Cas-4b very steady frequency control of doppler shift example near los of signal I try no DSP ( loud ) then DSP1 and DSP2 (better ) then sat fades at 2.5 dergrees

Sat Cas 4-B QSO Wav file
Listen to F.M. ham adio satellite contacts over AO-92 AO-92 2m/23cm FM sat recording wav audio sound file.
Same AO-92 pass recorded on YouTube by K7ULS , thank you !
Listen to a FM sat AO-92 with TS2000 dsp 4072018 wav file
Hear how the new preamp gives a better signal to noise ratio on this recording XW-2C-north2SouthPass-better_SN-my-new-sp200-preamp-
Check out Hams working FM sats on Saturday Ao-92 FM pass 4-14-18-18:37z Patrick is rare grid DM54/55.
New Noise dmr or intermod on uhf uplink in this recording of ao92 Uv pass 2018-04-08--05:37z--A0-92-Uv_Pass_with-dmr-intermod-sounds on uplink qso w/ ki6pmd and my new sp200 preamp
Quick weak recoding of Cas-4B ( great ssb sat ) of Ve5swL just before LOS
recoding of Cas-4B SSB Sat I'm Chating with California K6VUG and 1515miles with NR0T just before LOS
Sunday is layed back on AO-92 L-Band Mode ( 145mhz downlink and 1200mhz uplink ) 2018-04-15-18:17z Audio Wav.
2-way QSO recording on XW-2d between Kb6Lty and k4mpg talking about receiving UHF sats and using RH/LH CP antenna switch.
QSO recording on XW-2-C between Ko6kL and George Wa5kBh em30 George has some great audio..perhaps something fancy on the mic ?

AO-92 RUNS LBAND ON SUNDAY , 1,267,360 MHZ UPlink 145.880 DownLink It seems kind of noise filled with I get Patrick on the bird. or is it just me?
-=-=
Great Sigs on Cas-4B Ki6pmd working N7agf 1st qso on this bird Ki6Pmd is manualy tuning for doplar
AO-91 Field Day on a FM Sat 6-23-2018- 2033z/ 130pm pdt ham sat recording wav file.
Perhaps FD FM sats should give one point for each callsign copyed to encorage more monitoring and less trying to transmited when you cant hear the bird. AO-92 U/v FM Sat on Sunday mid day Field Day 2018 lots of QRM.

Info on Solar Power and Ham radio RFI Solar power for ham radio homes and RFI/EMI tips.

Ko6kL is using this low cost tri band antena array ( below ) for vhf / uhf / and 23cm or 1296mhz Look here for other ham sat antenna pics.

Here is a free app we can exchange sat antena pics with, drag and drop your pics and get a tiny url to share in the chat room.

Please email brad(at)valleymedia.org pics of your ham sat antenna's etc for my new Ham-Satllite Antenna photo page.